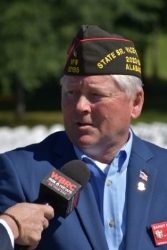 NEWS RELEASE
June 11, 2023
FOR IMMEDIATE RELEASE
MONTGOMERY, Ala. – Danny Sample of Alabaster was elected Saturday as state commander of the Veterans of Foreign Wars of the United States, Department of Alabama. He will lead the 10,000 combat veterans of the Alabama VFW for the next year.

Sample has previously served as senior vice commander at the state level. He is also a former commander of Lance Cpl. Thomas Rivers Memorial Post 12185 in Alabaster. A retired U.S. Army colonel, Sample and his wife, Tammy, are owners of Siluria Brewing Co., also in Alabaster.

He succeeds Tammy Johnson of Huntsville, who has served in the position since 2022. Sample's term will expire in 2024.

The Veterans of Foreign Wars of the United States is a nonprofit veterans service organization comprised of eligible veterans and military service members from the active, guard and reserve forces. The VFW has approximately 1.5 million regular and auxiliary members in all 50 states, and many foreign territories.