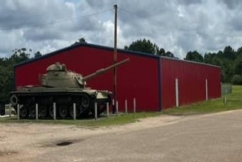 Members, Veterans, and Community, the inside of the facility is coming along quite nicely. We are working on the drywall mudding and taping, and soon will be ready for paint. They will begin on building the bar soon and we have already made ready tables, chairs, barstools, as well as the Pool Tables, Jukebox, ATM, and Electronic Games (For entertainment purposes only while all proceeds from them support the Relief Fund). Excitement fills the air as we begin the countdown. Be ready for more news.
The VFW is a Veterans service organization, we cater to the U.S. Veteran and their families. However, we also serve our communities. Yet, without member participation the level of service is greatly reduced. We need YOU, our veteran Brothers and Sisters to come participate and make those differences. No we are not officially back to full operations, however, our Veteran and Community Outreach does not stop because there isn't a building to hang out in. We need the members to continue to show up, to participate and to provide ideas, networking, and assistance to ensure that we remain relevant to our Veterans and Communities.
May God Bless the United States and All of us.